ELTECH ENGINEERS is an ISO 9001: 2008 certified Indian Company engaged in the manufacturing
activity of corona treater, Static Charge Eliminator, Induction Cap Sealer,Ozone generator and static chargers. Our clients always look upto us for their different requirements because of our high quality standards, superior performance, zero defect products, timely deliveries and very reasonable prices.

The Static Charge Meter is a non-contact, hand held, light weight static monitoring and locating instrument. It utilises a precision LCD display to indicate the magnitude and polarity of the electrostatic charge. The instrument has good directional sensitivity and is ideal for measuring electric charges encountered in critical electronic assembly and storage areas as well as Antistatic Work Stations. It can also be used for Plastics, Paper, Textiles, Food, Explosives and Pharmaceutical Industries. The unit is gives direct readings of electrostatic potentials on any surface, when held at a distance of 50 mm. However, virtually any electrostatic potential can be measured by proportionately increasing the distance from the meter to the charged object.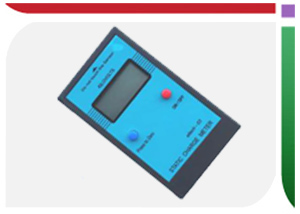 Static Locator