We manufacture a wide range of ionizers for static control measures in industrial, electronic as well as converting applications. We provide a complete range of ionizers from ionizing bars and ionizing blowers to ionizing air guns and much more.
Air ions are molecules that have lost or gained an electron. Ions are present in normal air but are "stripped" out when an air is subject to filtration and conditioning. They are produced by radioactive emission or by phenomenon called "corona discharge" where a high voltage is applied to sharp point. All air ionization systems work by flooding the atmosphere with positive and negative ion, when ionized air comes in contact with a charge surface; the charge surface attracts ions of the opposite polarity. As a result the static electricity that has build up on products, equipment and surface is neutralized.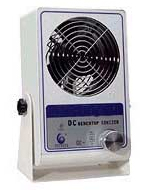 Conductive air can neutralize the static charge on every surface that it contents. The field from the charged surface attracts ions of the opposite polarity until the charged on the surface is neutralized. The Static neutralizer is portable and uses a small fan to produce airflow. High voltages generated out of the supply line voltage are applied to stainless steel ion emitter points. These points produce intense alternating polarities, ionizing the air instantly in the fan airflow. The Static eliminator-neutralizer is designed for use when handling sensitive electronic components where electrostatic discharge is a problem. The unit can also used where static electricity causes problems such as; attraction of drift to product, misalignment of small parts due to electrostatic "jumping" and undesirable adhesion of plastic films due to electrostatic charge.